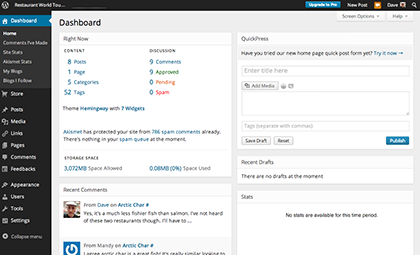 What is WordPress
What is WordPress you ask? WordPress is an online, open source website creation tool written in PHP. But in non-geek speak, it's probably the easiest and most powerful blogging and website content management system (or CMS) in existence today. WordPress is currently the fastest growing CMS software. Initially, WordPress was largely associated with blogs as its main functionality was to allow easy blog experience. Yet, over time, its developers expanded its functionality to allow the creation of more complicated websites and grew it into a content management system rather than a blogging tool. WordPress is considered the easiest to use CMS thanks to a very friendly interface. It also has an amazing number of plugins which allow extension of its functionality in various possible ways.
The best part about WordPress is that it's easy to use and flexible enough for just about anything. That's the main reason why WordPress has grown so much in popularity. Due to it's robust features, many of the top brands use WordPress to power their websites including but not limited to: Time Magazine, Google, Facebook, Sony, Disney, LinkedIn, The New York Times, CNN, eBay, and more. If you want someone experienced to setup your WordPress site, then our talented staff members are happy to help you get started.
WordPress is written using standard compliance high quality code and produces semantic mark up which makes your site very attractive to search engines. By design WordPress is very SEO friendly, and you can make it even more SEO friendly by using wordpress SEO plugins. WordPress also comes with built-in updater that allows you to update your plugins and themes from within your WordPress admin dashboard. It also notifies you when there is a new version of WordPress is available, so you can update it by just clicking a button. You can keep all your WordPress content safe by setting up automated regular WordPress Backups.
---
Let's Get Started – Fire it Up!
---